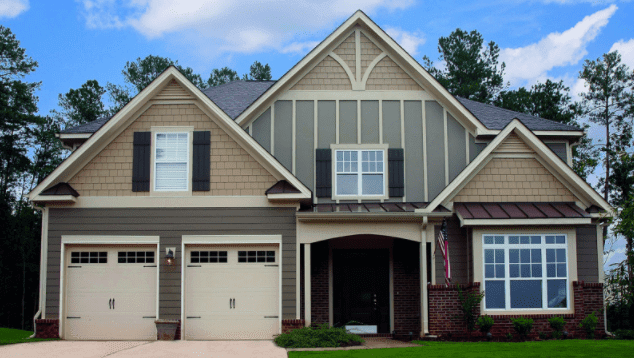 Expert James Hardie Siding Installation in Maryland
There's a lot to consider when choosing the siding for your home or commercial building. Not only do you want it to be durable, easily maintained, and affordable, you want it to look good. James Hardie fiber cement siding has the ability to check off all of those boxes.
---
---
Fiber cement panels, boards, and siding come in a huge assortment of styles and colors, are more durable than other siding materials, and are incredibly cost-efficient. That's why at Capitol Improvements, we use James Hardie siding, the creator of fiber cement siding, for many of the projects we work on.
What is James Hardie Fiber Cement?
James Hardie fiber cement is made up of just five basic ingredients that, when combined, create a nearly perfect construction material. It contains a mix of Portland cement, wood pulp, silica sand, cellulose fibers, and water to create a thick, durable panel that is not only strong but also flexible, preventing it from cracking.
Why Choose James Hardie Fiber Cement Siding and Panels?
There are a number of reasons why someone would want to choose James Hardie cement siding for the exterior of their home.
Durability
Because James Hardie siding contains wood pulp, it is flexible and able to expand or contract in different temperatures, keeping it from cracking. And its cement component makes it resistant to rot, moisture, mold, and fire, as well as insect- and rodent-proof.
It is also capable of withstanding winds as high as 130 miles per hour and is unaffected by the salty air and high humidity that can come with living near the coast. That's good news for people looking to upgrade their siding in the Maryland and D.C. areas.
Energy-Efficiency
Fiber cement siding is five times thicker than vinyl siding, adding insulation to your home and lowering your heating and cooling costs.
Maintenance
James Hardie siding is considered a low-maintenance siding solution. Whereas painted wood siding can flake, peel, and need retouching every few years, fiber cement siding only requires a good spray-down with a garden hose once or twice a year.
Longevity
James Hardie fiber cement siding is capable of withstanding hot and cold weather, and it lasts the test of time. Many James Hardie siding products have 30-year warranties, and some of their products have limited lifetime warranties.
Versatility
James Hardie fiber cement siding can be made to look like clapboards, shingles, stucco, and stone. James Hardie sells planks, panels, and shingles in a myriad of designs and colors, and even if you can't find the color you're looking for, this siding product can be easily stained or painted.
Fiber cement siding has the look and versatility of real wood, including the ability to be painted or stained in a variety of finishes.
What is the Cost of James Hardie Siding?
When it comes to siding costs, James Hardie fiber cement is quite affordable. The only type of siding that's less costly is vinyl siding. James Hardie siding is similar in price to hardwood siding or composite siding materials, and it's less expensive than stone, brick, or synthetic stucco siding.
Typically, the cost of fiber cement siding will range from $5.00-$13.00 per square foot, including installation.
There are certain factors that need to be considered when determining the cost of a fiber cement siding project, including:
The size and layout of your home

The number of windows and doors to work around

The kind of siding that needs to be replaced

If damage is discovered once the old siding is removed

The style of fiber cement siding you choose

The style of the trim you choose

Whether extra items, like a weather-resistant barrier, are going to be added
When you decide to use James Hardie cement siding for your home, our team at Capitol Improvements will meet with you to discuss your vision and advise you of the best options to achieve the look you want, and then we will prepare a competitively priced quote for you.
Get A Quote Today!
Contact Us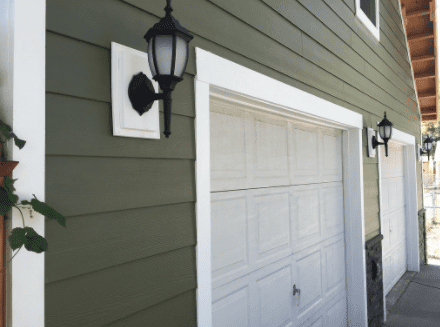 What is James Hardie Certification?
Capitol Improvements is James Hardie certified. The James Hardie Contractor Alliance Program is designed to match homeowners with professional contractors from around the country who are trained and available to help you meet your needs for siding repair and replacement.
In an effort to provide the highest level of service, James Hardie uses GuildQuality (a third-party service) to conduct customer satisfaction surveys after every James Hardie project performed by their Preferred Contractors.
Capitol Improvements also undergoes ongoing training with James Hardie in order to stay compliant.
Prior to being recognized as an Elite Preferred or Preferred Contractor, James Hardie considers all of the following:
Compliance with installation best practices
Professional sales approach
Satisfactory credit report
State licensed
Liability insurance $1,000,000 per occurrence
Workman's compensation insurance
Satisfactory background check
At least six past clients

Contact Your Local Fiber Cement Siding Company
James Hardie siding is a versatile, durable, and stylish way to finish your home. When it comes to installation, it is always recommended to hire a siding company near you that knows the proper way to handle and install this product. Failing to follow proper installation methods can cause unnecessary defects to occur in the siding and lead to issues down the road.
Capitol Improvements is one of the most trusted siding contractors in Washington, D.C., serving the District of Columbia, Maryland, and Northern Virginia. MHIC 130628 and DC License 410519000037. Get your Fast & Free Siding Quote Today!
Want to replace or install fiber cement siding? Speak to us about our low-interest financing options from $99 per month.
Washington D.C. James Hardie Siding Company Review

Read More of Our Reviews
See what some of our happy clients had to say! Read some of our reviews.
What are you waiting for?
Get your free roofing quote today!