Flat Roofing Contractors Near DC
(Residential & Commercial)
Flat roofing is very different from shingled roofing which is why it is important to use a flat roofing contractor with the experience to complete your roofing job. Water that lies stagnate on a roof with no way to run off will find a way into your home. As certified flat roofing contractors in the D.C. area, at Capitol Improvements, we do everything necessary to make sure your home stays dry for years to come.
For a roof to be considered a flat roof or 'low-slope' roof the slant of the roof cannot exceed 25 percent or 3 inches of rise for every 12 inches of horizontal length. It is because the slope of the roof is so minor that water has more trouble running off which increases the chances of leaks or mold. With this type of roof being prone to these sorts of problems, you might wonder why someone would choose this type of roof as their design. Flat roofs do have their advantages as well.
Advantages of Flat Roofs
They allow for maximum air-conditioned living space

They provide more options for solar panel installation

They can provide a roof-top living space either a garden or patio

They handle high winds better
Flat roof design has become more popular in cities seeking to maximize useable space over the past few decades throughout D.C. and Maryland (Bowie, Gaithersburg) and the United States as a whole, but it is important that if you do have a flat roof that you properly maintain it, watching for water or snow buildup, and that you handle repairs to your flat roof in a timely manner before they become larger problems impacting the interior of your home. City space is limited, thus builders have resorted to using flat roofs on homes and buildings. Washington, D.C. flat roofing contractors like Capitol Improvements can replace your flat roof.
What are you waiting for?
Get your free flat roofing quote today!
Types of Flat Roofs We Install
There are a number of options when it comes to the best material to use when completing a flat roofing project, whether that be for a residential flat roof or a commercial flat roof. Here at Capitol Improvements, our staff only uses the highest-quality roofing materials, with options that will fit every budget for your D.C. home or commercial property.
Modified Bitumen
A single-ply rolled roof system consisting of asphalt and polymers. Also known as Modified Bitumen Systems (MBS), this is an option for your flat roofing construction project as it comes in a long sheet so there are no seams to worry about. It may not be a fit for you if your roof doesn't have a bit of a pitch to it as there are seams every few feet. Its self-adhesive ability makes for quick and easy installation, and it is available in a wide array of colors so matching it with the other shingles on your home is a breeze. This type of flat roofing material typically runs at a cost of $12-14/sq ft.
TPO
Made of a heat-reflective single-ply polypropylene membrane, this type of flat roofing material is lightweight and comes laminated so as to keep nuisances like algae or fungus from being able to grow on it. Made of a white material, TPO roofs work well in commercial and industrial applications to keep heat from seeping into large buildings by reflecting the heat. However, this is a specialized building material, so a flat roofing contractor is recommended for both installation and maintenance of it. This type of flat roofing material typically runs at a cost of $13-17/sq ft.
EPDM Rubber
Consisting of a large single-layered roll of durable synthetic rubber roofing membrane this is the best option if you are looking for longevity when it comes to your roof as it's been known to last up to 50 years. It is incredibly resistant to the elements and since rubber can expand or contract in the heat and cold it won't crack. This type of flat roofing material typically runs at a cost of $13-17/sq ft.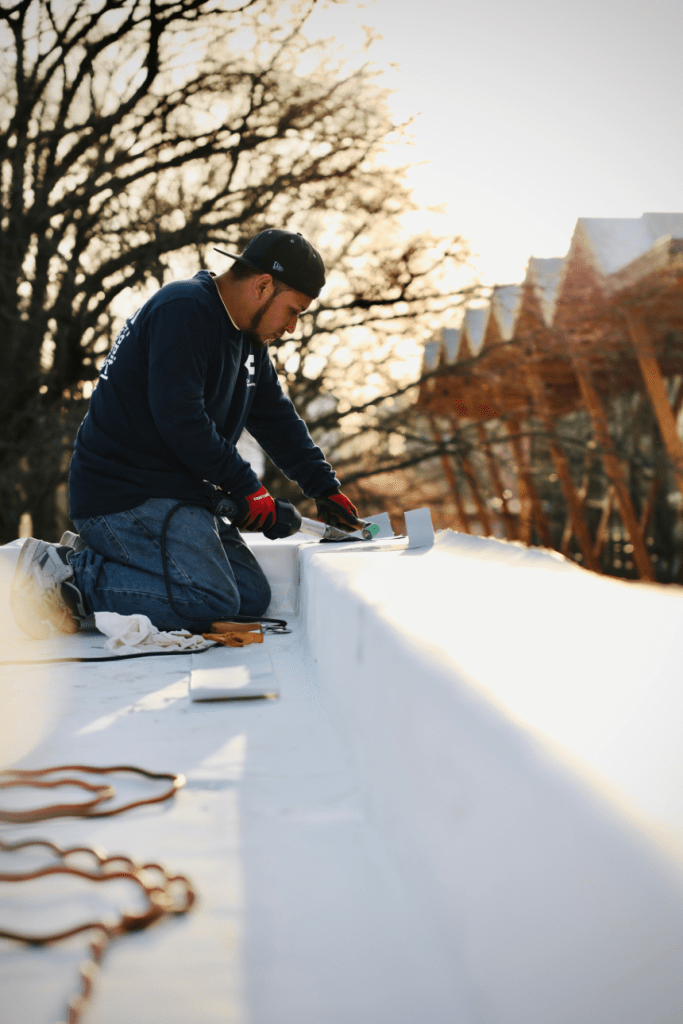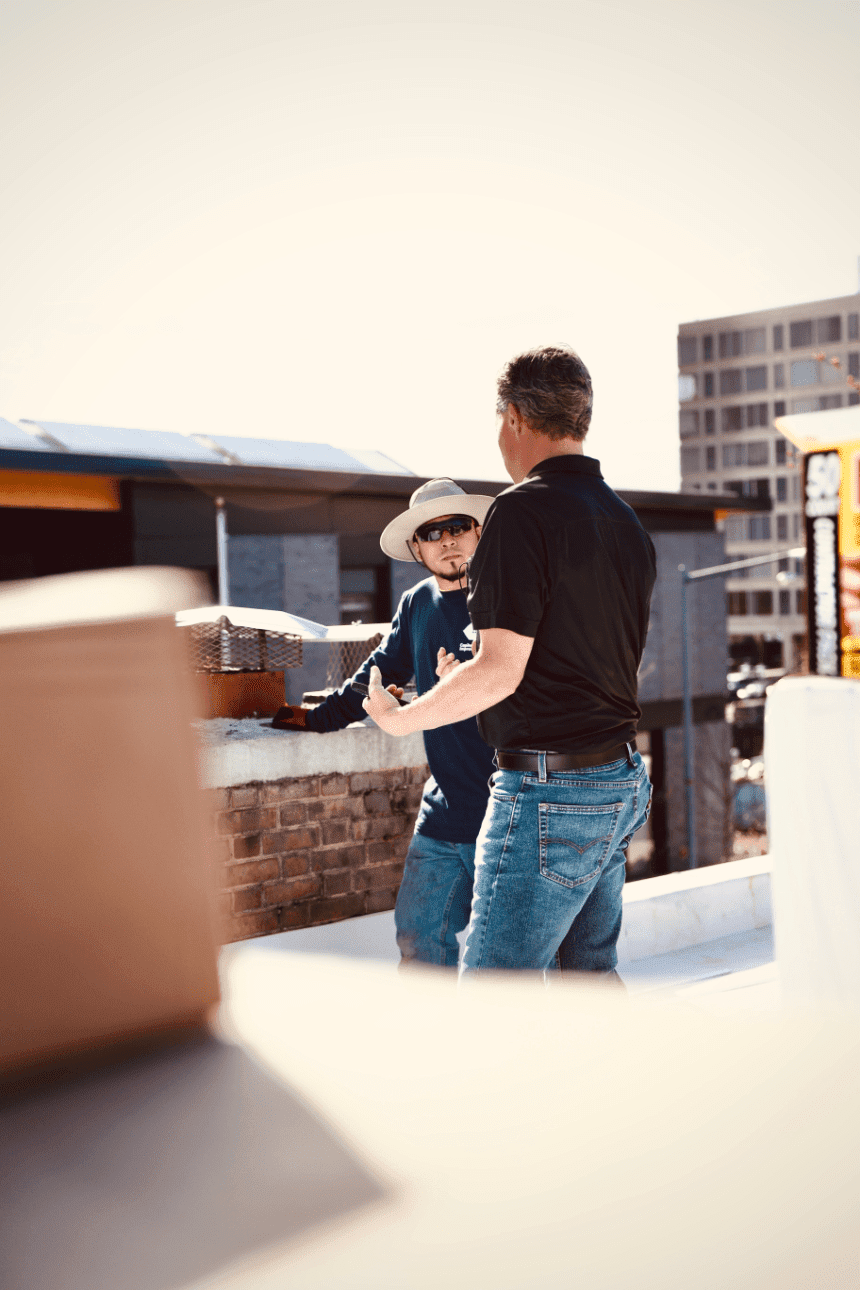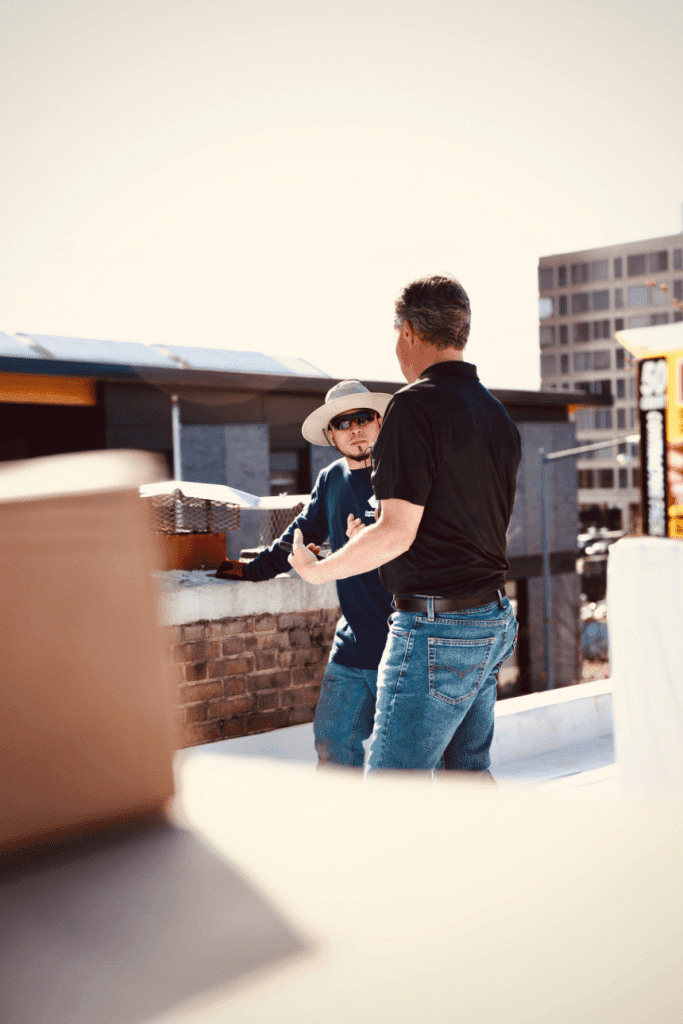 Expert DC Flat Roofing Company You Can Trust
Have peace of mind knowing that your roof is installed right and will last for years to come. As a certified installer, we can guarantee your material and labor for the lifetime of the product. With Pat's 30+ years of roofing experience throughout Maryland and D.C., he will help you decide on the right flat roof to fit your budget and needs. Technological advancements in flat roofing have led way to residential and commercial applications in between which is why it's important to choose an expert flat roofing contractor near you with years of experience. One that can stand behind their work and a host of integrations in-between. We can handle flat roofing jobs both big and small. Our flat roofs are guaranteed to last.
We also know that flat roofing replacements are many times unexpected. This is why we offer low-interest financing options from $99 per month.
Capitol Improvements is one of the most trusted flat roofing contractors in Washington, DC serving the District of Columbia and Maryland. DC License 410519000037 and MHIC 130628. Get your Fast & Free Roof Quote Today!
"Pat and his team are amazing. They gave me a new flat roof and replaced all the windows in my DC row house. His prices are fair and very competitive, communication was great throughout the process. He has different expert teams for windows and roofs and both executed flawlessly. The increased comfort and energy savings have been wonderful, plus everything looks great. Highly recommend!!"
Read More of Our Reviews
See what some of our happy clients had to say! Read some of our reviews.
What are you waiting for?
Get your free flat roofing quote today!
As a flat roofing company, we install these types of flat roofs for both homes and commercial buildings:
Modified Bitumen Systems (MBS)
Thermoplastic Polyolefin (TPO)
Ethylene Propylene Diene Monomer (EPDM)
Polyvinyl chloride (PVC)
Learn more here...
We install flat roofs for commercial buildings and homes in:
Washington, D.C.
Maryland
Northern Virginia
Maryland

Annapolis, MD
Baltimore, MD
Bethesda, MD
College Park, MD
Columbia, MD
Frederick, MD
Glen Burnie, MD
Laurel, MD
Mt Airy, MD
Rockville, MD
Upper Marlboro, MD
Waldorf, MD
...and more!

Northern Virginia

Alexandria, VA
Arlington, VA
Ashburn, VA
Centreville, VA
Chantilly, VA
Fairfax, VA
Gainesville, VA
Leesburg, VA
Lorton, VA
Manassas, VA
Reston, VA
Springfield, VA
Sterling, VA
Tysons, VA
Woodbridge, VA
...and more!
Learn more...