Gaithersburg Siding Contractor Near You
The siding on your home serves many functions. It protects your home from the elements, helps increase energy efficiency, and improves the style of your home. When properly installed by a qualified roof and siding contractor near you, siding can increase the value of your home or property significantly.
At Capitol Improvements, we have been installing siding for residents in Gaithersburg for years and have established a winning reputation for our high-quality workmanship.
---
---
Lifetime Siding Systems
Our lifetime systems work together with your home's underlayment to improve the energy efficiency of your home. We install both Mastic and James Hardie systems, depending on what you're looking for and what your home needs. You can enjoy peace of mind knowing your home is covered with the highest-quality Mastic or James Hardie siding, installed by qualified and licensed professionals.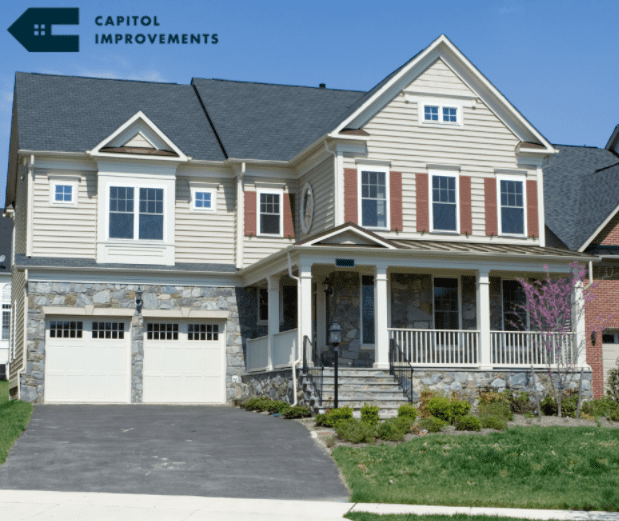 What are you waiting for?
Get your free siding quote today!
When it comes to James Hardie siding, we offer both vinyl siding options as well as James Hardie fiber cement siding for home and property owners in Gaithersburg, MD.
If you're looking to replace or upgrade the siding on your home, one of our siding experts can meet with you for a free consultation to determine what type of siding would be best for your Gaithersburg home or commercial property.
At Capitol Improvements, we only use the best when it comes to vinyl siding, which is why we often choose Mastic vinyl siding from Ply Gem. It has been the number one choice among homeowners, builders, and remodelers for years.
Mastic premium siding is tough and durable, able to stand up to extreme weather, and requires very little maintenance. Mastic vinyl siding is also backed by an industry-leading limited lifetime warranty.
Not only is Mastic siding tough and durable, but it also comes in a wide variety of colors and styles so that you can make your home look exactly how you want.
The siding on your home is a major purchase. You need to be able to trust that your siding will do its job to protect your home from rain, snow, sun, and pests, as well as make your home look great.
Capitol Improvements is one of the most trusted siding contractors in Maryland, serving the District of Columbia, Maryland, and Northern Virginia.