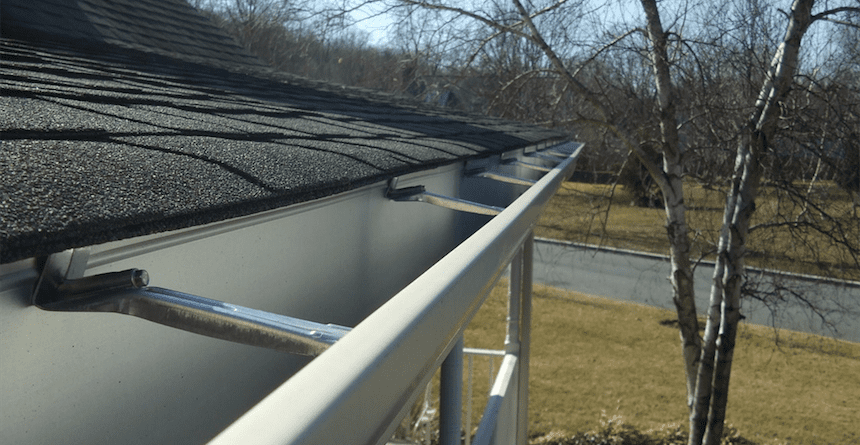 Seamless Bowie Gutter Contractors Serving DC, MD, and VA.
As seamless gutter contractors, we know that gutters play a key role in diverting water off of the roof and away from the foundation of our house. Deciding whether to install 5-inch or 6-inch gutters, seamless gutters come down to the amount of rain your roof handles during a heavy storm. Our 5inch and 6inch seamless gutters have a hidden screwed bracket. What does that mean? It means that you can have a beautiful gutter without seams and that the gutter is stronger using an internal bracket that is screwed not nailed into the fascia board. Our gutters are guaranteed to last a lifetime through the worst of weather.
Bowie Gutter contractors that are strengthening your home one run at a time. The key to installing strong gutters that will last a lifetime are size and design. We only install 5inch or 6inch oversized gutters so your gutters can handle the heavy flow off of the roof-line. We also use .032 gauge high-quality aluminum to form and shape every gutter to size right on-site. In addition to high-quality aluminum, we use a bracketed system that goes inside the gutters. By screwing the bracket back into the fascia board it ensures a snug fit that will not back out over time.
In addition to the strength of the gutters, there are many different color options to choose from. Make your gutters a stand-out part of your home. We also provide copper gutters, half rounds, and other specialty gutter systems for those looking to make a statement or match a historic gutter.
Capitol Improvements is one of the most trusted gutter installers in Bowie, Maryland, serving the District of Columbia, Maryland, and Northern Virginia. MHIC 130628. Get your Fast & Free Roof Quote Today!
Bowie Roofing and Siding Review

Read More of Our Reviews
See what some of our happy clients had to say! Read some of our reviews.
What are you waiting for?
Get your free seamless gutter quote today!